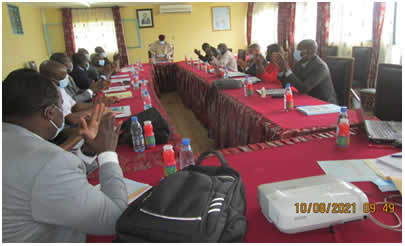 43 candidates for the grade of Attaché to that of Research Officer (i.e. 90%), 03 candidates for the grade of Research Officer to that of Master (i.e. 6%) and 02 candidates for the grade of Master to that of Research Director (i.e. 4%).
These are the 48 applications examined by the 17 members of the ad hoc committee for the evaluation of researchers of the Research Institute for Agricultural Development (IRAD) chaired by the Director General, Dr Noé WOIN.
To this effect, the work of the ad hoc Commission of 10 and 11 August 2021 was solemnly opened by the DG of the Institute in Nkolbisson. In strict compliance with the barrier measures against the COVID-19 pandemic prescribed by the government.
"I can't praise enough the improvement in the frequency of these meetings, which give researchers the opportunity to be evaluated in real time," said the IRAD Director General at the start of the proceedings. He went on to acknowledge that "this provision contributes significantly to the qualitative and quantitative improvement of the scientific production of researchers and therefore improves the visibility of the Institute". The largest of the structures under the Ministry of Scientific Research and Innovation (MINRESI).
For a credible and transparent promotion process, Dr Noé WOIN prescribed the evaluation of "the quality of work by field in accordance with the provisions of the Decision of 25 May 2021 of Mrs. MINRESI, Dr. Madeleine Tchuinté.
In order that no one should be unaware of this, the principles that should guide the debates were recalled by the leader. In particular, the effective contribution of all during the exchanges, in a spirit of openness, mutual respect, equity and perfect collaboration; and sufficient rigour in their approaches. It is true that the researchers' careers depend on the results of this evaluation.
As a reminder, during the previous session (2020), 54 (i.e. 46 Attachés for the grade of Research Associate, 06 Chargés for the grade of Research Master and 02 Masters for the grade of Research Director) files had been submitted.
CELCOM