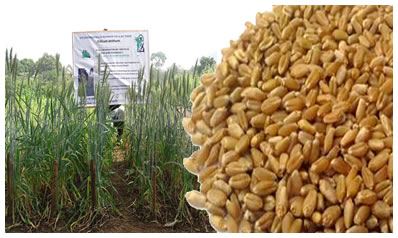 To boost local production and processing of wheat (scientific name Triticum ssp) in Cameroon, the Head of State, His Excellency Paul BIYA, concerned about the food security of his compatriots, has ordered a special grant to the Institute of Agricultural Research for Development (IRAD).
The good news widely welcomed by the great family of research in general and IRAD in particular was made public on July 5, 2022, by a letter from the Minister of State, Secretary General of the Presidency of the Republic (SG/PR), Ferdinand NGOH NGOH.
Indeed, for several years, the Institute, the secular arm of the State of Cameroon in terms of agricultural development, headed by Dr. Noé WOIN, has been setting up wheat experimentation plots throughout the country. As a result, IRAD currently has about twenty varieties, four of which (IRAD1, IRAD2, Banyo and Bamenda) are known to perform well and are likely to give good results in the agro-ecological zones of Cameroon.
It should be noted that wheat is the main raw material for making bread, doughnuts, etc., which are widely consumed by Cameroonian populations. And the war in Ukraine has led to the scarcity of this speculation whose importation makes, moreover, the public treasury lose hundreds of billions of CFA francs each year.